Our cuisine is our passion
Taverna La Baccante offers its guests a fixed price menu consisting of Piedmontese cuisine, prepared with care and offers different plates depending on season and availability.
We do not have an "a la carte menu"
For reservationsor request information you can contact us at the phone numbers
(+39)349.4059.338 - (+39)339.8966.215
We are open on Friday and Saturday in the evening and on Sunday in the morning
News
From June 25th, we look forward to welcoming you every Sunday from 6:30 PM to 8:30 PM for the TAVERNA'S APERITIF!
A relaxing outdoor aperitif with our Wines and fantastic Appetizers; for information and reservations, you can contact us at the numbers (+39)349.4059338 or (+39)339.8966215 (reservation required).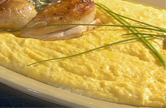 Polenta dinner
One of the traditional dishes, defined also the "dish of the poor", but at the base of many of their recipes due to its goodness and simplicity.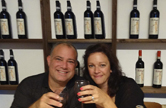 Special Dinner
Taverna della Baccante periodically organizes theme dinners dedicated to the most important dishes of Piedmont cuisine. Keep in touch to know when we'll organize a new one for you.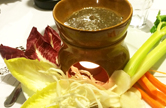 Bagna cauda dinner
Made with anchovies, oil and garlic and used as a dip for fresh vegetables, the "bagna cauda" is considered a main dish; in the past it was during the gatherings and dinners with friends who was preparing this dish that over time has become the symbol of friendship and happy atmosphere.
Our
Wines
The farm La Baccante is a young company conducted with enthusiasm by the owners Cristina and Filippo Giammello, in the heart of Monferrato, on an area of only 1.5 hectares. The wines are derived almost entirely from grapes from two old vineyards that provide them, naturally, to the selection of quality and quantity.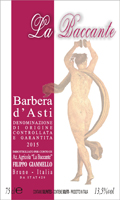 Barbera d'Asti DOCG
Dry red wine. Barbera is the main Piedmontese vine,
native of Monferrato.
Ruby red in color, has a characteristic vinous aroma and the taste is dry, quiet and full-bodied.
Serving temperature 16 ° -18 ° C.
It is appreciated with meal dishes, especially with white and red meats, and also with old cheeses.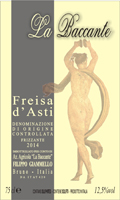 Freisa d'Asti DOC
Dry red wine. Freisa is a typical Piedmontese variety.
Vibrant, garnet red color.
Characteristic delicate fragrance of raspberry and rose.
The flavor is sweet, fresh with raspberry background.
Serving temperature 16 ° -18 ° C.
It goes well with cold meats, soups and fresh cheeses.